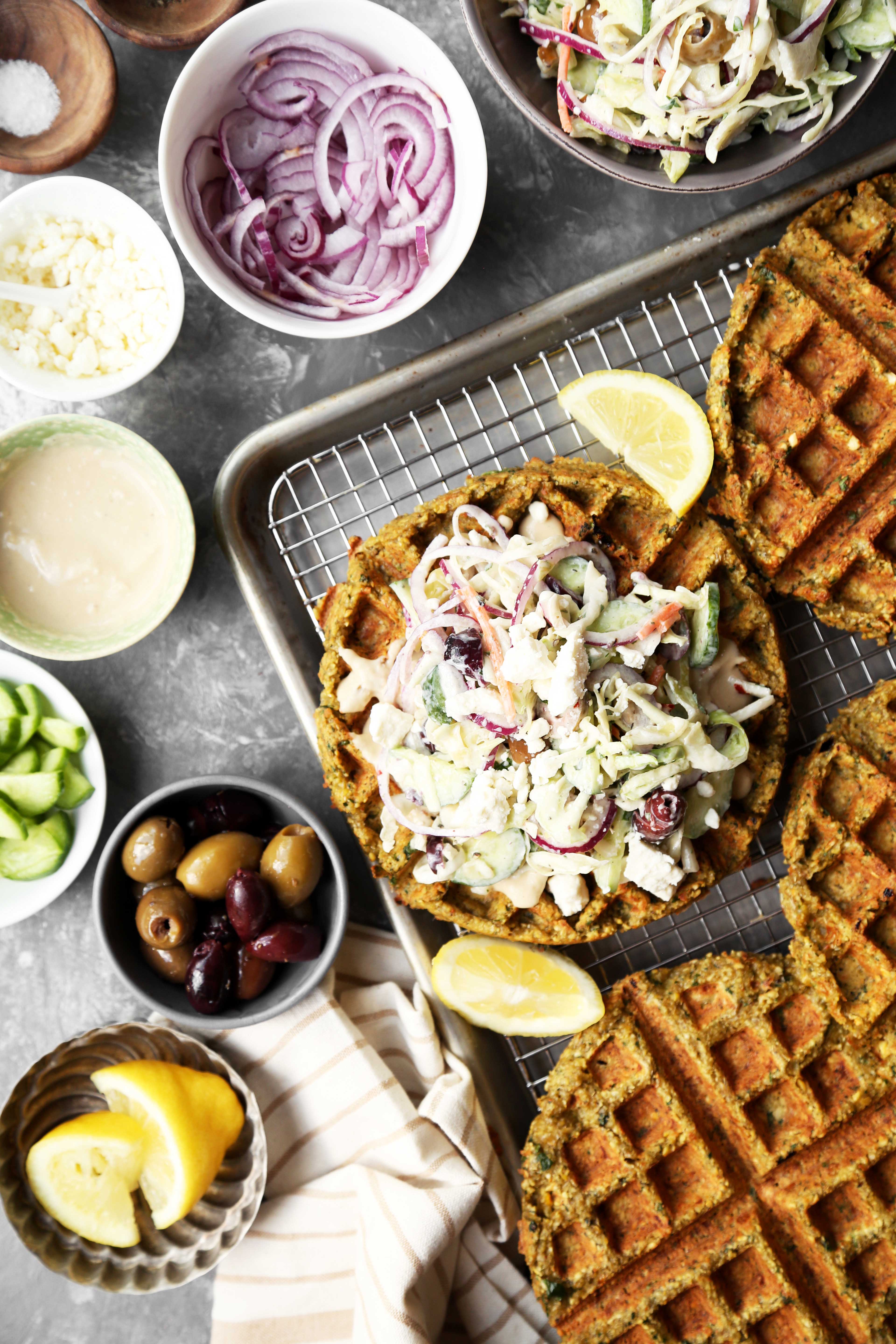 I've been on a small hiatus due to the fact that I was shooting my friend Joy's third cookbook (third, can you believe that? I don't know how she does it). It's been a crazy fun adventure, filled with all the brunch food you could possibly think of, and I've enjoyed every single moment of it. It's a blessing that I get to do what I do. I do not take any of it for granted, believe me. Every day I'm so very thankful for getting the opportunity to enjoy the work that I do. Above all though, I'm very thankful that you have decided to follow along for the ride. Thank you for all of you kind words and comments, day in and day out. Thank you for trying out these recipes. Even if I don't always get the chance to respond, I want you to know that I do read them all and they make me so happy. The fact that you stick around even after all of my bad jokes, is a true testament to your kindness. If you've noticed that I haven't posted anything in over a week (which I hate doing but sometimes I can't help it), then I apologize. If you haven't noticed, pretend I didn't say anything at all. Either way, I'm back and I'm ready to start sharing more delicious recipes with you once again, and let's not forget about those bad jokes. I have so many I've yet to share.
Now that I'm back, better than ever, I needed a show-stopping recipe because you deserve it. So I waffled a falafel and then topped it with a Greek-style slaw because regular waffles can get a bit boring and sometimes we need to think outside of the box. You'd be surprised with what you can cook in a waffle iron. If you don't have one, it's time you invest in one, because I guarantee you that you'll be using it more often than you know. You don't need to break the bank or anything either. There are a few inexpensive models out there that work great! They get the job done, without having to sell your arm or your leg. This one is a classic that I think works great. Back to these falafel waffles though. Mainly because I really like saying/typing falafel waffles. It has a ring to it. The fact that these falafels (this falafel?) isn't fried already makes them better and makes them worth the effort. Do yourself a favor though, and remember to soak the beans a day before you plan on using them. It makes the process a lot easier and you'll be thankful that you did. So look at me being vegetarian and gluten-free all in one recipe. I never thought the day would come. Quick, take a picture before it disappears.
Place the dried beans in a large bowl and then cover with about 3 to 4 inches of cold water. Let soak for about 24 hours. Make sure to keep on eye on it every once in a while, and add more water if needed.
**Tip: It's important to use dried garbanzo beans for this, and soak them for the appropriate amount of time. Substituting canned beans, won't work. Make sure to plan ahead of time and soak them the morning before you plan on making the waffles for dinner.**
Drain the beans and rinse well under cold running water. Reserve about 1 cup of beans and then place the rest in the bowl of a food processor. Add the remaining ingredients.
**Note: It'll look like it all won't fit, but just stuff it in there. Make it fit. If this were an olympic sport, go for the gold.**
Pulse until chopped down and evenly combined. You might need to add a splash or two of water to help it along. Also, keep in mind that since we packed the food processor, you'll have to stop it occasionally to run a spatula down the sides and bottom of the bowl. This will help the mixture come together more evenly.
The mixture should be course, and somewhat wet. You don't want it dripping with liquid, just moist enough to be able to hold it's shape when squeezed. Dump it out into a bowl and then stir with a bit more seasoning, if needed, and the chickpea flour.
**Tip: Chickpea flour keeps this dish Gluten-Free, but if you can't find any or don't have some on hand, feel free to just use all-purpose flour instead. Traditional falafel doesn't have either ingredient, but I think that because we're waffling this, it helps keep it together. The dough needs a binder of some sort.**
**Note: If you added too much liquid to your mixture, don't panic. It happens. We reserved that cup of chickpeas at the beginning just for this purpose. Pulse in a food process until coarse and then mix into the falafel mixture. If your mixture is too dry, add a splash more of water a little at a time, and mix until the perfect texture is reached.**
Grease a waffle iron with cooking spray and then add about 1/2 cup of batter to the hot iron. Spread it out with a spatula so that you end up with even falafel waffles. Run the waffle cycle about 1 1/2 times so that it gets the perfect brown color and crunch.
**Note: Keep in mind that this isn't like a waffle batter that rises and spreads where you have to be careful to not overfill the iron. Since this is just like a regular falafel dough, feel free to really load it into the iron, and make sure to spread it out so that it's in a single layer before you close it.**
Place the waffles on a wire rack, set over a baking sheet, so that they don't get soggy. You can place them in a warmed oven to keep them warm. In the meantime, let's make that Mediterranean slaw. It's like a Greek salad meets coleslaw. The cool crisp texture is perfect with the warm crunchy waffles.
In a large bowl, combine the shredded cabbage, red onion, cucumber, olives, Greek yogurt, olive oil, lemon juice, red wine vinegar, oregano, parsley, salt, pepper and feta until creamy and evenly incorporated. Once that's done, you're ready to assemble the waffles. Spread the warm falafel waffles with tahini and then top with a scoop (or a few) of the slaw.
That's it. That's all that is required for this. Serve right away and enjoy. Make sure to serve with a fresh lemon wedge, just in case you want to squeeze a bit of freshness over them. You could also drizzle with hot sauce, if you like things spicy.
You can definitely make the falafel waffles a day or two ahead of time. Just rewarm in a 325ºF for about 5 to 10 minutes. The slaw can also be made a day in advance. Just keep in mind that moisture will pool at the bottom of the salad. Just drain it and you'll be good to go. You don't want to keep that extra moisture because it'll make the waffles to get soggy.
If you're not a vegetarian (like me) and really want or need some protein in your meal (like me), try adding a few slices of grilled chicken on top of each waffle. You can marinate the chicken like I did in this Mediterranean Gyro Fries post. Then just grill and slice it.
I love this recipe because I'm obsessed with falafel, but I'm not always crazy about the fact that they're deep fried. This still gives us that crispy outer layer with a soft chewy inside. The waffles taste just like falafel, so who cares if they're not fried?! You'll be doing yourself a favor. You could also use this as bread for a Mediterranean sandwich that everyone will be jealous about.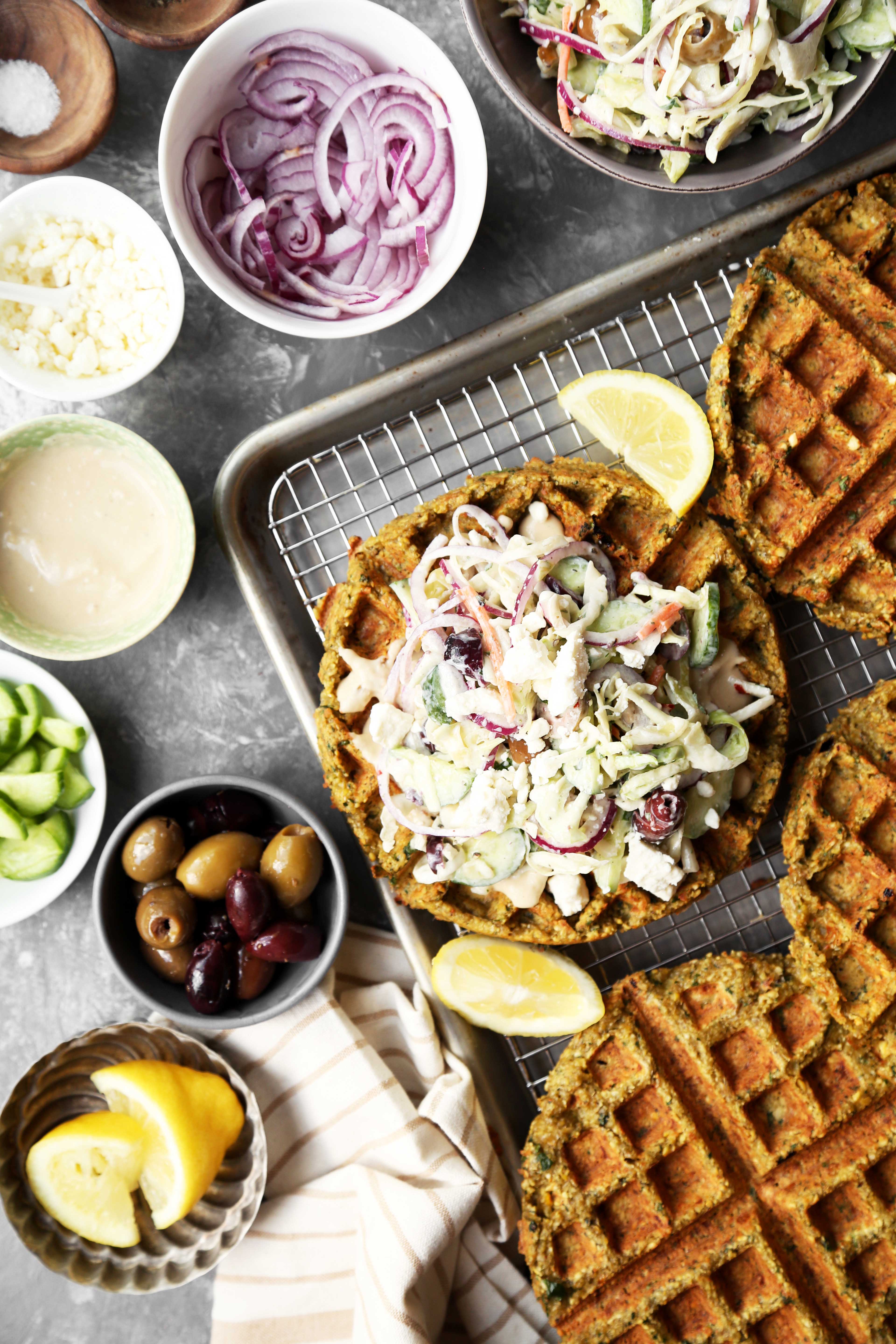 Falafel Waffles with a Mediterranean Slaw
These Falafel Waffles are easy to make and packed with so much flavor! Homemade falafel batter is cooked in a waffle iron for added crunch without having to deep fry anything. The fresh slaw on top, is the perfect match.
Ingredients
Falafel waffles
1

pound

dried garbanzo beans

3

garlic cloves

chopped

1/2

yellow onion

chopped

1

teaspoon

ground coriander

1

tablespoon

ground cumin

3/4

teaspoon

cayenne pepper

1

teaspoon

salt

1/2

teaspoon

coarse ground black pepper

1/2

cup

fresh parsley

1/4

cup

fresh cilantro

1

tablespoon

fresh oregano

1/2

teaspoon

baking soda

1

medium lemon

juiced

1/4

cup

olive oil

1/4 to 1/2

cup

chickpea flour

or all-purpose flour
Slaw
3

cups

shredded green cabbage

or coleslaw mix

2

small Persian cucumbers

thinly sliced

1/2

red onion

thinly sliced

1/2

cup

sliced black and green olives

1/3

cup

Greek yogurt

1

tablespoon

fresh lemon juice

1

tablespoon

olive oil

1

tablespoon

red wine vinegar

1

tablespoon

fresh chopped oregano

1/4

cup

fresh chopped parsley

1/2

cup

crumbled feta

1/2

cup

tahini sauce
Instructions
Place the garbanzo beans in a large bowl or pot, and fill with cold water, enough to cover with about 3-inches of cold water. Allow to soak for about 24 hours, adding more water at any point if needed.

On the day of cooking, drain and rinse the beans well under cold running water. Transfer to a food processor along with the remaining falafel ingredients (except for the flour). Reserve about 1 cup of the chickpeas for later. Pulse until evenly chopped and well combined. It'll be coarse, not smooth at all. Be careful to not over pulse. You'll need to stop the machine periodically to scrape down the sides and bottom with a rubber spatula to ensure that everything is mixed well. Transfer to a large mixing bowl, and then stir in enough of the chickpea flour so that you end up with a dough that isn't too wet, where it'll fall apart, or too dry where it won't stick together. If you've added too much water or anything, just pulse those reserved chickpeas from earlier and stir into the falafel dough, set aside.

To make the slaw, combine all of the slaw ingredients (except for the tahini) in a large mixing bowl until evenly incorporated. Give it a taste and adjust accordingly, adding more salt or pepper as needed. Cover with plastic wrap and place in fridge until ready to eat.

Preheat a waffle iron and grease lightly with cooking spray. Add about 1/2 cup of the falafel dough onto the hot iron and spread out evenly with a rubber spatula. Cook according to manufacturer's instructions until golden brown and crispy. Transfer to a wire rack, set over a baking sheet, and continue to make the rest of the waffles. Keep warm in a 250 degree oven.

To assemble, spread each waffle with a bit of tahini and then top with the slaw. Garnish with a bit more of crumbled feta before serving. Enjoy!