I'm doing everything in my power to make cauliflower as unhealthy as possible. Vegetables aren't supposed to be healthy. That seems unnatural to me. (I'm kidding, mom!) You won't hate me though, if I dredge it in seasoned flour and cheese and then deep fry it until golden brown and crispy and then top it with more cheese and fresh chives at the end will you? Would you be terribly upset if that happened? Well, it's too late. It already happened and it's awesome. So awesome, I had to share it with the world. I wouldn't be able to live with myself if I hadn't. I'm here to make sure you eat your vegetables and if deep frying them makes it so, then who am I to prevent it from happening? I'm not a monster. I'm your friend. And that's what friends do. Shove deep fried cauliflower with whipped feta (never too much cheese) your way and tempt you into eating it all with me.
My all time favorite (well, new favorite) restaurant is this great place right by my house (Studio City, Ca). It's called Black Market Liquor Bar. They serve small plates/tapas that you can order a few at a time and share with your loved ones and friends, or better yet, go with people you hate so that you don't have to share any of it. You can have it all to yourself. That's probably your best bet. They also have great drinks, so that's a plus. Do yourself a favor and get an Irish Mule (like a Moscow Mule but with Irish whiskey instead of vodka) I've been forcing Julian to go an abnormal amount of times because it's that awesome. Anyhow, this long tangent was to say that they make a bomb dot com fried cauliflower just like this one. It comes piping hot and crispy and delicious and it's served with a lemon aioli that is impeccable. IMPECCABLE I tell you. If you live in my neck of the woods or in SoCal and fancy a drive towards my neck of the woods, you have to check this place out. (Not sponsored, but it should be because I'd hawk this place until the end of time). If you go, make sure you give me a call because I'll be there before you know it and we'll share all of the plates on the menu together and have the grandest of times. Promise.
Let's talk about another awesome restaurant I know. As I mentioned in the last post, I'm currently visiting New Orleans for a few weeks and one of my favorites here is Domenica. I first went there with my friend Joy, and was hooked the minute I sat down. I'm pretty sure it was the company, but the food and cocktails sure didn't hurt. They have a great cauliflower dish on the menu that I'm pretty sure if famous. It's a whole head of cauliflower roasted and it's served with a whipped feta that is almost almost better than the cauliflower itself. Anyhow, in honor of both of these favorite restaurants of mine, I decided to combine the two dishes and bring them together as my life intended them to be. Do it, you won't regret it.
We have to start by cutting down the cauliflower head into small pieces. I know it can be a little daunting and difficult to break down such a weirdly shape hunk of vegetable, but believe me…it never gets better. I think I'll always dread this task.
**Note: Do not over cook the cauliflower at this point. If they get too soft, they'll breakdown completely while they fry and become mush. You just want to boil them for a few minutes to slightly softened them a bit.**
**Tip: To make them cool faster, lay the cauliflower pieces on a baking sheet in a single layer. You can pop it in the fridge or freezer!**
Once the cauliflower has cooled, let's get ready to dredge them. In a shallow dish, beat the eggs and milk together. In a separate dish, whisk together the flour, parmesan, and seasoning.
You start by dipping the cauliflower into the flour mixture first, then the egg, and once again into the flour. It help the egg stick if you go flour first and then once again at the end. Place the coated pieces on a wire rack set over a baking sheet. Continue with the rest and then allow them to sit and dry out a bit as the oil heats up.
**Note: I like to place them on a wire rack so that air can circulate from the bottom of the pieces to the top. If you fry them right away the coating has a tendency to come off somewhat. Drying them out allows it to stick better!**
Heat a large pot or skillet, filled just about halfway with vegetable oil, until 370ºF. Fry a few pieces at a time until golden brown, remove from the oil and place on a plate lined with paper towels to drain. Transfer to a clean wire rack (set over a baking sheet) to prevent them from getting soggy as you continue frying the rest. Right when they come out of the fryer, sprinkle them with a pinch of salt to allow it to stick.
Right before serving you can rewarm the cauliflower in a preheated 250ºF oven for about 5 minutes. Keep them warm while you make the whipped feta dipping sauce.
The sauce is super easy to make as it is delicious to eat. If we really think about it, it might be a bad thing how easy it is because you'll want to make it all the time for everything.
In a food processor, combine the goat cheese, feta, cream, cheese, heavy cream, olive oil, lemon juice, and pepper. After trying this whipped feta at Domenique for the first time, I started searching around the internets for a recipe and low and behold I actually found the recipe from the chef himself, Alon Shaya. It's on the bonappetit site. I tweaked it just a little by adding fresh lemon juice and black pepper. Two ingredients that I think just go so well together with the cheeses. Pulse until smooth and creamy.
**Tip: It helps if the cheeses are somewhat at room temperature. Also, I've made it before without the goat cheese, sometimes I like goat cheese and sometimes I don't. Don't judge me. Anyhow, it's great without it, if you're not the biggest fan of it either.**
Serve the cauliflower with a sprinkling of fresh chopped chives and with grated parmesan. It adds a nice touch of color and flavor to the dish. Finish off the whipped feta with a drizzle of olive oil right before serving.
You can make the whipped feta up to a day in advance. Wrap it tightly in plastic wrap and place in the fridge. Right before serving, allow to come to room temperature and swirl it around with a whisk to get some air back into it.
If you like cauliflower as much as I do, you'll go crazy for this recipe. If you're not a cauliflower fan, this might change your mind. In fact, picture this. Forget about the chives and cheese as garnish. Lose those. Instead, think about tossing these pieces (right out of the fryer) into buffalo wing sauce and melted butter. Blue cheese dressing (or ranch) on the side for dunking. Can you picture that? It sounds great, right? I'll leave you with that. Just something to dream about. Enjoy!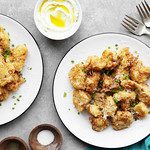 Fried Cauliflower with Whipped Feta
Lightly breaded cauliflower pieces fried until crispy, topped with parmesan and chives. Served with a whipped feta for dipping.
Ingredients
1

large head of cauliflower

cut into florets

2

large eggs

2

tablespoons

milk

1 1/2

cups

all-purpose flour

1/2

cup

grated parmesan cheese

1

teaspoon

salt

1

teaspoon

black pepper

1/2

teaspoon

granulated garlic

1/2

teaspoon

granulated onion

1/2

teaspoon

paprika

2

tablespoons

fresh chives

chopped

vegetable oil for frying
For the whipped feta
4

ounces

fresh goat cheese

3

ounces

cream cheese

3

ounces

feta

1/3

heavy cream

1

tablespoon

fresh lemon juice

3

tablespoons

olive oil

1/2

teaspoon

black pepper
Instructions
Bring a large pot of water to a boil, season with a few pinches of salt. Throw in the cauliflower and simmer for about 5 minutes. Drain and allow to cool down completely.

Fill a large pot or skillet with enough vegetable oil to fill the pot just about halfway. Heat to 370℉ with a candy thermometer.

In a small shallow dish, beat the eggs with the milk until smooth. In a separate shallow dish mix the flour with the parmesan cheese, salt, pepper, granulated garlic, granulated onion, and paprika. Coat the cooled cauliflower by dipping into the flour mixture, eggs and then into the flour mixture once again. Place on a wire rack and allow to air dry until the rest are fully dredged.

Fry the cauliflower in batches until golden brown and crispy. Drain on a plate or platter, lined with paper towels. Transfer to a wire rack and continue frying the rest. Keep warm in a preheated 250℉ oven. Garnish with fresh chives and parmesan.

To make the whipped feta, combine all of the ingredients in a food processor and blend until smooth. Serve on the side with a drizzle of olive oil. Enjoy!
Notes
Whipped Feta adapted from Alon Shaya from Domenica