I don't know about your mothers, but my mamma would much rather have a barbecue feast instead of a fancy brunch for Mother's Day. She's a boss like that. Don't give her pancakes or waffles, or even eggs, on her special day. She'd probably flip a table over and demand smoked ribs with coleslaw and cornbread on the side. I'm totally kidding, she's not really a tyrant like that. She's actually the complete opposite, but for dramatic effect let's say I'm not kidding. (Sorry mamma). Give her a big plate of chicken wings though—not just on Mother's Day but any day of the week—and she'll be happy as a clam. A clam, I tell you. Take these Strawberry Rhubarb BBQ Wings for instance, they would probably bring tears of joy to her eyes. More so than any flower or chocolate or card ever possibly could. I think it's safe to say that grilled chicken wings are the new way to our mothers' hearts. It's so 2015 of us. We shouldn't be fighting it, but rather we should be making and eating all of the wings. Don't fight it. Just make the wings.
Forget about all of the traditional, normal, everyday gifts that most moms get year after year. They don't want that! They're tired of those presents. Take it from me, they want something much tastier. Something new and exciting. Something they can't get enough of. Something they can get their hands and faces dirty with, and are forced to lick their fingers clean because they don't want to waste one drop of this delicious sauce. Don't let the idea of making homemade BBQ sauce scare you though. It can be intimidating, but it's actually incredibly easy to whip up. The hardest part is letting it simmer away for half an hour without sneaking a taste or two. So that's definitely saying something. But let's face it, at time's I'm super lazy aren't you? So I'm all for a homemade sauce that I can just dump everything into a pot, and forget about it while it simmer's on low developing its incredible flavor, without me having to do anything major to it, other than just stirring it every now and then.
I'm definitely my mother's son because I can never resist using my charcoal grill for everything. To me, nothing beats that flavor you get from burning coals. Definitely not as good as a propane grill, and sure it's probably not the safest for the environment but I couldn't grill any other way. It's what I grew up with. My childhood during warm summer days, eating hamburgers and hot dogs by the pool. With that being said I of course, had to fire up my grill for this recipe. Rest assured though, I have those of you who don't have an outdoor grill covered. I've given you a few alternative options to be able to make these sweet and spicy wings yourself. I'm just thinking of you and your mother's because you should totally make these wings for them. They'll be happy you did.
We're going to start by preparing the wings first. I like to season the wings with a bit of dried spices and herbs and then let them hangout for a bit before grilling them so that the flavors really develop. It's like a marinade but not a wet marinade, a dry one. That still counts right?!
Toss the wings with vegetable oil, salt, pepper, garlic powder, onion powder, cayenne pepper, red chili flakes, dried oregano and dried thyme. Set to the side and allow them to do their thing.
**Note: I've left my wings whole so that they are easier to handle on the grill. If you plan to roast them in the oven or use a stove top grill (rather than an outdoor grill like I used) then you can cut the tips off and then separate the two pieces of each wing so you end up with drumettes.**
Our next step is to start the barbecue sauce. The main part of this post because let's face it, anyone can grill a wing. The real star of the show is this here sauce. In a medium pot, sauté the onions and garlic in a little big of oil, until soft and just beginning to caramelize, about 5 minutes. Season with a bit of salt, pepper, and chili powder.
Throw in the sliced strawberries and rhubarb and continue to cook for another 5 minutes to soften. It sounds a little bit crazy but the sweetness from those ingredients balance out nicely with the spiciness from the chili and hot sauce.
Add in the remaining ingredients and stir until evenly combined. Bring to a boil, reduce the heat to low and simmer for about 30 to 40 minutes or until thick and reduced by a third.
Once the sauce has thickened and cooked for a while, you can turn off the heat and allow it to cool down for about 10 to 15 minutes.
**Note: This cooling period is essential because it not only allows the sauce to thicken up a bit more, but it also allows the flavors to marinate and develop. It gives the sauce that tiny little push to the next flavor level.**
Now that the sauce has cooled, transfer it to a food processor or blender and blend until smooth.
**Tip: You can skip this step if you don't want a smooth bbq sauce. A chunky sauce wouldn't be the end of the world. You could also use one of those emersion blenders right in the pot, if you have one. It'll save you from having to clean out the food processor or blender.**
Once the sauce is ready and the wings have sat and marinaded for a bit, you are now ready to fire up that grill. These are grilled BBQ wings after all.
I'm using the outdoor grill for this because I think the flavor and smoke you can get from a charcoal grill is perfect for these wings. Plus my mamma loves a charcoal grilled meal. It reminds her of summer and of when we were younger.
**Tip: Like I mentioned earlier, you can either use a stovetop grill pan or you can crank up the oven to about 425ºF and roast them in there instead. That's just as good.**
When the grill is ready, place the wings on and began cooking them. You want to cook the wings for about 15 t0 20 minutes, turning them often and never walking away from them because if you do, you'll burn them quickly. I burned a few, but let's not talk about it.
As the wings cook, and each time you turn them, you want to baste them liberally with the strawberry rhubarb bbq sauce we made for them. Just keep brushing and then turning, brushing and then turning. That's how they'll get that awesome coating outside. Continue cooking the wings until the juices run clear when poked with a skewer.
If you choose to roast the wings in the oven, here's what you need to do. Line a baking sheet with several layers of foil. Crazy maybe, but you'll thank me later when you don't have to scrub the baking sheet. Grease with a bit of oil or cooking spray and lay out the wings in a single layer. Roast them in a preheated 425ºF oven for about 25 minutes. You want to turn them occasionally and continuously baste them with the sauce.
You can serve the wings as an appetizer or snack. They're great for parties or game watching on the TV. They're also great as a main dish with a few sides. Try serving them with these Cheddar Jalapeño Corn Muffins from the vault and Roasted Potato Salad. It would also be incredible with Grilled Caesar Salad (since you already have that grill fired up).
You can use this delicious sauce for any of your BBQ or grilling needs. It's great on ribs or pork chops, or even just bone-in skin-on chicken breasts. Try it on burgers or shredded bbq chicken sandwiches. You can even just forgot about all of that and drink it by the gallon because it's that good. Whatever you decide to do with it (I'm not judging) just make it. You won't regret it. Don't let the sweetness of the strawberries and rhubarb deter you from trying this sauce out. I promise you'll like it. It's the perfect balance of sweet and spicy. Go on and get your BBQing on.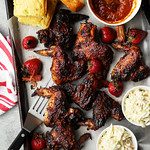 Strawberry Rhubarb BBQ Wings
A sweet and spicy homemade barbecue sauce made with strawberries and rhubarb. Strawberry Rhubarb BBQ Wings are the perfect appetizer or entrée for any meal!
Ingredients
For the wings
1

pound

chicken wings

2

tablespoons

canola oil

1

teaspoon

salt

½

teaspoon

black pepper

½

teaspoon

dried oregano

½

teaspoon

dried thyme

½

teaspoon

granulated garlic

or garlic powder

½

teaspoon

granulated onion

or onion powder

½

teaspoon

cayenne pepper

½

teaspoon

chili flakes
For the sauce
1

tablespoon

canola oil

1

medium onion

diced

2

garlic cloves

minced

1

teaspoon

salt

1

teaspoon

black pepper

2

teaspoons

chili powder

¼

teaspoon

cayenne pepper

1

teaspoon

red chili flakes

1

cup

ketchup

⅓

cup

molasses

2

tablespoons

apple cider vinegar

2

tablespoons

Worcestershire sauce

2

tablespoons

spicy brown mustard

2

tablespoons

honey

½

teaspoon

hot sauce

such as Tabasco

1

cup

sliced fresh strawberries

¾

cup

sliced fresh rhubarb
Instructions
Toss the chicken wings with the oil and seasonings to evenly combine. Cover with plastic wrap and allow to chill for at least 30 minutes in the fridge. Remove from fridge and allow to sit at room temperature for a bit before grilling.

Heat a medium pot over medium-high heat. Add the oil and heat until hot and just beginning to smoke. Throw in the onions and garlic and sauté for about 5 minutes until translucent and just beginning to caramelize. Season with salt, pepper, chili powder, chili flakes and cayenne pepper. Cook for another minute or two and then addd in the remaining ingredients. Cook until it boils rapidly and then lower the flame. Simmer for about 30 to 35 minutes or until it has reduced slightly and has thickened significantly. Remove from heat and allow to cool for at least 15 minutes. Pour the sauce into a food processor or blender and blend until smooth.

Fire the outdoor grill or a stovetop grill pan over medium/heat. Cook the wings for about 15 minutes, turning often, or until the juices run clear when inserted with a wooden skewer. Each time you turn the chicken wings, brush with the sauce we worked so hard making. Continue cooking, rotating and basting with BBQ sauce as you turn. Serve immediately. Leftover sauce can be stored in airtight container in the fridge for up to 6 weeks. Enjoy!